To start a project, I usually need a brief from you (you can find a template here), with
as many details as possible
to guide me through what you want, in which time frame and with which budget. I can sign a
NDA
if necessary. The best is then to
organize a call
to discuss about it further, so I can assess more precisely the scope of the project and give you a
quote
and estimated timeline of every steps. 
​​​​​​​
In order to improve the environmental impact of a current or future product, I can help you identify and evaluate the sustainable challenges through qualitative and quantitative tools sich as
Life-Cycle Analysis
 and
Product Environmental Footprint,
find out more here
.
I can also help you in the
sourcing
of local and less impactful materials from sustainable, recycled or reused sources.
Market, Trends and Inspiration :
To establish your project among the competition, I can do a
market research
and a presentation of other brands and products, to see what solutions are available in the market and how you can compete in there. 
If the project is more fashion-oriented, I'll do a trend research based on fashion shows, trend reports, market research and external exploration, summarized in a
moodboard
or presentation of inspirations for colors, materials, shapes and products.
If the project is more
innovation-oriented
, I'll do a
user research,
based on interviews and observations of several persons who could be the targeted end-consumer. The goal is to understand the user journey, his actual use of existing products and the pain-points that can be solved in our project. 
I'll translate these findings into one or several
user-scenario
 of the "Persona", a fictional end-consumer, who combines the qualities of the interviewed persons and whose specific usage can be solved by our product. 
Based on these researches, we will discuss together on more specific
design details, usability, style, technical features, materials
that need to be integrated and possibly establish a revised and more accurate Design Brief.
4- Design and conceptualisation
Hand-drawings sketches, renderings, 3D modeling :
From there, I can start concepts ideation. I do
hand-drawing sketches,
which is the fastest way for me to explore ideas and solutions, shapes and style. I will try to convey the best combination between design solutions to answer the brief, your
brand identity, the feasibility and the price target.
According to what we decided on the quote, I will propose you several options for the design, with high-quality hand or
computer-colored renderings or 3D renderings
 for you to best imagine the potential product. Each option will show a front view, side view, back view and any other necessary views and details. We will discuss these options and see what needs to be revised and updated until the final design is validated. We should have previously agreed on a number of iterations of the design to be done, but we can always extend it if necessary.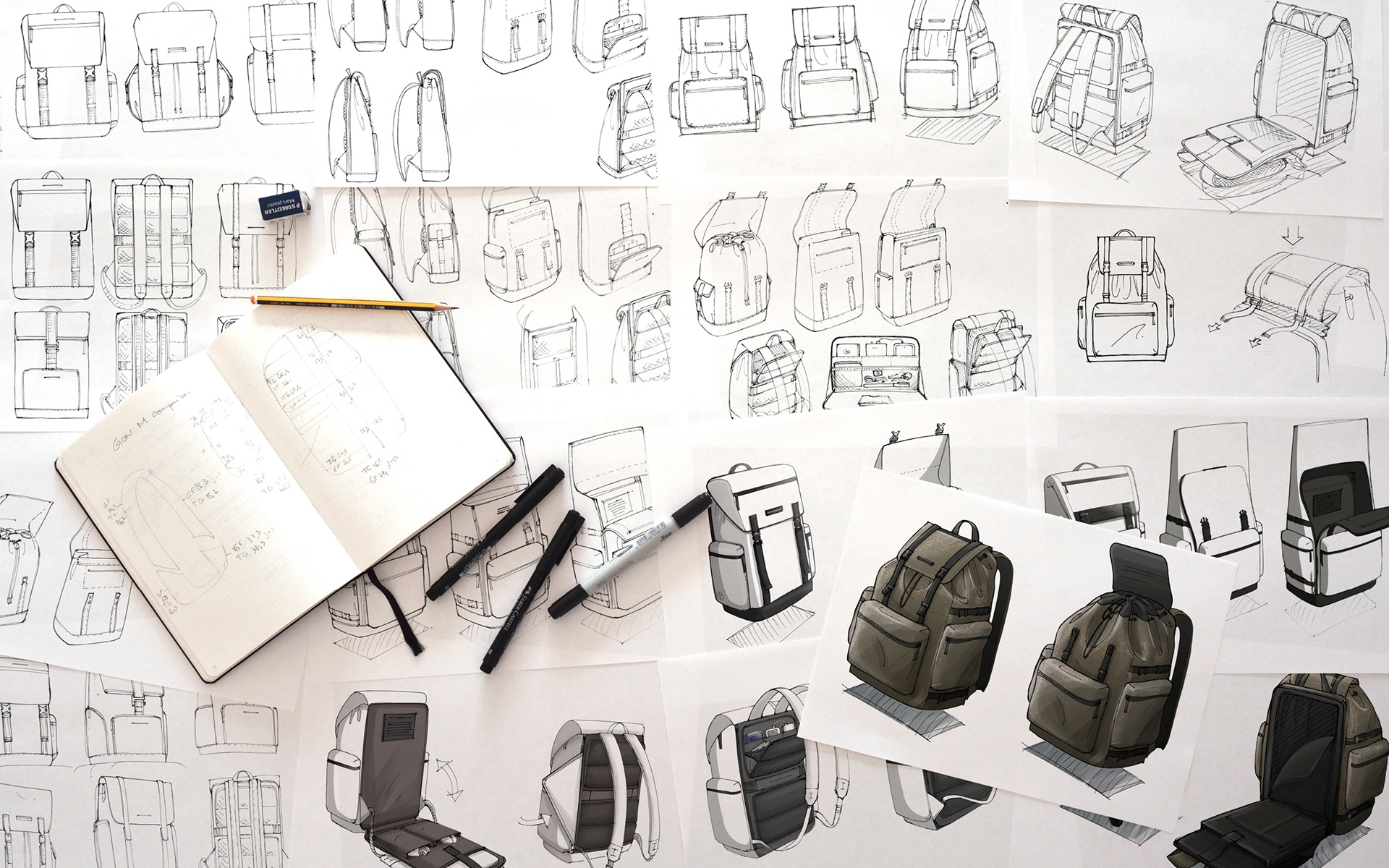 Mock-ups and basic prototypes :
Once the design is validated on drawings, I can make a
paper mock-up
with the real-size dimensions to have a better understanding of the volume, shape and proportions. This stage helps to adjust the dimensions and location of certain parts or to refine the overall look.
Another possibility, which can be complementary to the paper model, is to make a very
basic prototype
with available fabrics (leftovers from your manufacturer, or similar material that I can source locally) at my workshop. This stage can help us to further elaborate the structure of the bag, its usage, comfort, shape and assembly for production.
As soon as the Final Design is validated, I combine all relevant information for your manufacturing partner* to work on the sample in the "Technical Package": 
- Technical drawings
of all the views and parts of the product, with all dimensions and structural specifications
- Color references :
colored renderings of the product in all views, with mentions of materials, if you have one or several product in different colors
- Bill of Materials
with specifications of each material, trims and hardware
- Realistic renderings,
 functionalities explanation, photos

of reference products and mock-ups if necessary.
6- Sampling and product development
It takes several samples before getting to the final approved prototype
, depending on the complexity of the product and the level of quality and refinement you want and your manufacturer can provide. It is important to test the sample with potential "target-users" and see if it fulfills the requirements of the brief and the user needs. So it is also an
iterative process of revisions
, re-design, refinements that I can help you with and follow-up with your manufacturer.
I'm fluent in Mandarin
, so if your supplier is located in China, I can help you by communicating directly with the pattern maker and avoid time-consuming translation issues. Is it also good during this stage to
travel
 to your manufacturer and discuss about the prototype together. A lot of solutions can be found when discussing face to face with the product in hand, and business negotiations are also easier.
When the final sample has been made with the final materials, you can ask the manufacturer to let the sample go through a battery of tests and
to be certified and approved for production
. If it passes all standards, it is then called "Production Sample". I can give you here the Final Technical Package for you and your manufacturer's reference with all the updates that were made during the sampling process. 
And then the production can start!